http://www.grenoble-tourisme.com/en/
http://saint-etiennetourisme.com/?lang=en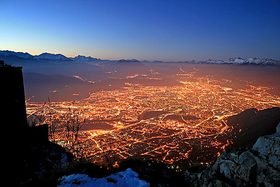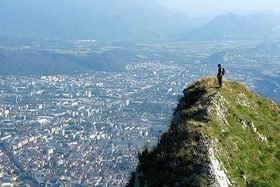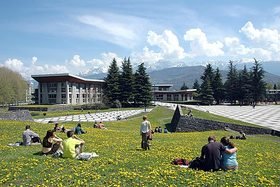 "Located in the southeast of France, Grenoble is one of the main cities of the Rhone-Alps region and is the prefecture of the Isere department.
Grenoble is niched in a verdant setting, at the heart of 3 alpine chains: Belledonne, Chartreuse, and Vercors.
The flattest city in France, Grenoble sits at 213 meters in altitude.
An urban cable car, the first of its kind, has been taking visitors up to the Bastille, 263 meters above, since 1934. From here, you'll discover a breath-taking bird's eye view of the city.
The city, its layout, and its history then become much clearer :
At the center, the historic heart is dense, rich with a prestigious past going back more than 2000 years in history. To the west, a world renowned scientific complex. To the south, the urban sprawl accelerated by the 1968 winter Olympic Games and to the east, the university campus which welcomes 61,000 students.
Naturally Y-shaped thanks to the presence of the three alpine chains, Grenoble can be accessed from three points : one from the direction of Valence and Lyon, the other from the south and the Route Napoléon, and the last from Chambery and Italy.
A remarkable university and scientific population give Grenoble the image of a young, cosmopolitan city, one that is constantly on the move.
The arrival and departure of the students and scientists mean that Grenoble never gets caught up with stereotypes. This is a free city!
Just as comfortable with culture as with sports, Grenoble offers a wide variety of activities.
On the cultural side, how could we mention Grenoble without talking about the Museum of Grenoble and le Magasin (National Contemporary Art Center), leaders when it comes to art. Not to mention France's first house of culture, inaugurated in 1968 by André Malraux. Today known as the MC2, this cultural center hosts a multitude of music, film, and theatre festivals, as well as areas dedicated to electronic music.
As for sports, Grenoble is just a few minutes from several ski resorts and you can set out on a mountain hike from the city center, via the Bastille. The city also boasts the first urban via ferrata in France.
With its 300 km of flat bike paths, Grenoble is also a cyclist's paradise.
A few numbers:
Grenoble counts 156,200 inhabitants inside the city limits and the greater Grenoble area has a population of 430,000 people.
61,000 students, 14% of whom are foreigners, have chosen Grenoble for their studies.
Grenoble benefits from 2000 hours of sunshine each year, as much as Toulouse or Bordeaux."*
Saint Etienne, The Cité du Design, a melting pot of creativity and innovation
For a full touristic information on Saint Etienne, its region and the Ecole des Mines de Saint Etienne, you may refer to the web page "location" of the conference IPSS 2015, http://ipss2015.emse.fr/location.php